Industry 4.0, or Industrie 4.0, is a movement that has great impact on the world of industrial automation.
Within this activity, an Administration Shell has been defined (see picture below). Within this shell the physical aspects of the assets are defined in eClass. However the functionalities of these assets and components are not defined, while many of these are specified by PLCopen, like done for motion control, safety and communication. These PLCopen specifications provide a well defined suite of functionalities, covering the basic range. In addition there is a framework defined by PLCopen related to the definition of function blocks with a focus to the definition of user specific libraries. With this one can encapsulate larger functionalities which are linked to the higher levels of integration. This helps to do the engineering of a new machine more easily and to provide a more decomposed and reusable structure in the software development, making it easier to add new wishes.
For this reason PLCopen starts a new working group to make a proposal to the Industry 4.0 initiative on how to map the existing PLCopen functionalities to the Industry 4.0 Administration shell. The kick-off meeting is set for December 12, 2017 in Modena, Italy. Contact PLCopen if you want to attend this.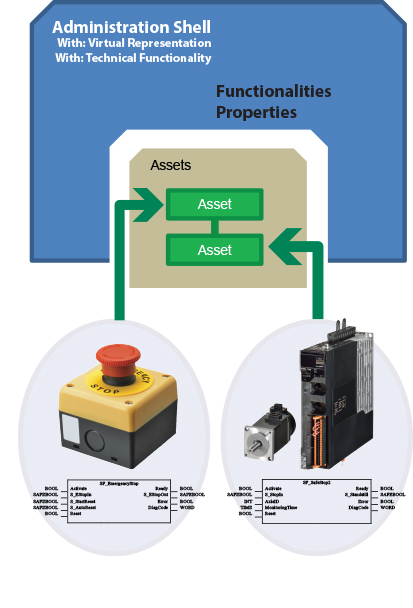 Background information on I4.0 Administration Shell:
http://www.plattform-i40.de/I40/Redaktion/EN/Downloads/Publikation/structure-of-the-administration-shell.pdf?__blob=publicationFile&v=7