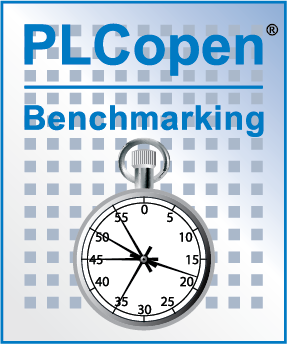 PLCopen intended to show several areas of activities during the SPS: from guidelines to use the Object-Oriented Programming within the industrial environment, the extended harmonization of the interface towards robot controllers, and benchmarking.
"PLCopen Benchmarking is something different at PLCopen for 2 reasons", says Eelco van der Wal, Managing Director of PLCopen. "Although PLCopen normally deals with the software environments, it was the best choice to define a benchmarking tool for measuring the performance of the different CPU architectures. Nowadays the CPU suppliers can tune their architectures to the specific needs. However, the needs of the industrial world in general are not clearly specified for them. The strict need for the real-time processing parallel to other operations is not so much known in other industries and needs clarification between the CPU suppliers and the control suppliers."
PLCopen did benchmarking in the past with a focus to different user applications, including motion control. However, the network seemed to be the decisive factor and further development was stopped. Today Benchmarking is back on the drawing board, but with a different scope. Therefore, PLCopen started this new approach.
This PLCopen benchmarking workgroup has a hardware resource-oriented approach, like processor- and computing-architecture. With this new initiative, the benchmark can indicate the effective performance of the different processors and architectures as used in the industrial controllers, and thus help in the selection of the optimal architecture for the control supplier in a very early stage. By the time the IEC program can run, it is already "too late" to tune, and much time, money and effort is already invested. This workgroup is defining a common language between the parties involved, ranging from CPU suppliers to control suppliers, and combined this with common test scripts for real-time and the influence of the other processes ("Noisy Neighbors"). This will include micro-benchmarks for the CPU specific tasks and subsets of instructions and application-oriented benchmarks. Overall, the suppliers are not looking for highest performance but for predictable, reliable and deterministic approach at good pricing: "the best bang for the buck!"
The proposed architecture for the first phase looks like this: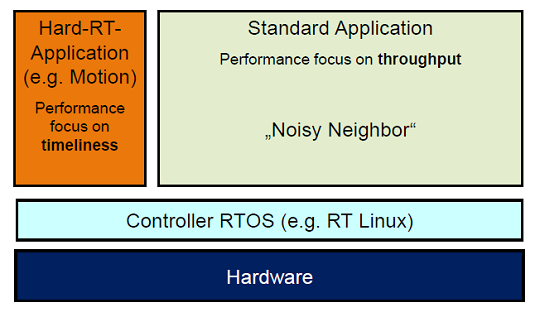 What is also really different in the approach, is that this working group is a PLCopen internal activity. The results of this group are not for comparison between the different suppliers, but strictly for use by the members of the organization internally. This is the first not open activity in PLCopen, not including the users and end-users.